This evening has been designed as a reference to the Sonamos Latinoamerica Festival, which we were unable to organize this year.  We offer you, for an evening, a double bill that focuses on musical traditions of the Latin American continent.
Celmaca Dúo was born from Osvaldo and Patricia Fernandez's passion for Latin American instruments, and their encounter with the fascinating characters that inspired their album "Cantando Historias".  Sustained by their voices, the duo proposes a journey among sounds and textures of various Latin American string instruments, numerous percussions and other, more unusual, instruments. Discover musically the stories of"El tejedor de sueños" (the dream weaver) or"El último hielero » (the last ice cutter), as well as other fragments of life gathered here and there.  The origin of the name « Celmaca » is nahuati, one of the Mexican languages still currently spoken.  « Celmaca » means to amuse, to procure pleasure – the mission the duo set themselves during this voyage, filled with colorful characters and stories. For this concert, they are bringing three special guests: Juan-Carlos Bonifaz Ordoñez on marimba, Sergio Carvajal Del Salto and Martin Lopez Muro on guitar.
During the first part of the evening, you'll discover the tango duo made up of Martin Lopez Muro & Kaspar Uljas.  The two musicians met in Estonia and united thanks to their love of tango, of the Argentinian musical folklore, and because of their fascination with Astor Piazzolla.  Their compositions and arrangements are served by their previous musical experiences, namely the world of jazz for Kaspar, who used to compose and play the accordion in several groups before dedicating himself totally to the Argentinian bandoneon, and classical music for Martin.  Their repertoire covers, in an eclectic manner, traditional tango, modern tango and folkloric Argentine music.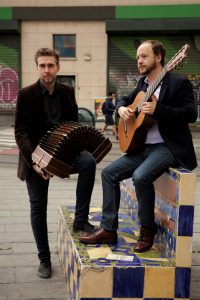 ATTENTION, for this concert you will be asked to present a covid safe ticket in addition to the concert ticket. Info: www.muziekpublique.be/coronavirus