The Malian Trio Da Kali is a unique group bringing major talents together in one single ensemble. The group's singer, Hawa Kassé Mady Diabaté, is none other than the daughter and musical heir of Feu Kassé Mady Diabaté, the legendary singer that performed at Muziekpublique in 2014. Mamadou Kouyaté is the son of Bassekou Kouyaté, inventor of the popular N'goni ba, and Lassana Diabaté knows how to play the balafon as no one else.
When the British music producer Lucy Duran proposed to the trio to play with the Kronos Quartet, a surprising combination was born and the ensemble toured the entire world. Today, the Kronos Quartet withdrew from the project but left some of the most wonderful musical arrangements as sonic heritage. The African trio now continues to build on this musical legacy with a new partner: the North Sea String Quartet. The concept is equally promising. As a matter of fact, in addition to classical music skills, these young and dashing musicians know how to ingeniously bring swing, groove and improvisation to live shows!
Trio Da Kali                                                                                                North Sea String Quartet
Hawa Kassé Mady Diabaté – voice                                               George Dumitriu – violin
Lassana Diabaté – balafon                                                             Pablo Rodríguez – violin
Mamadou Kouyaté – bas n'goni                                                    Yanna Pelser – viola
Thomas van Geelen – cello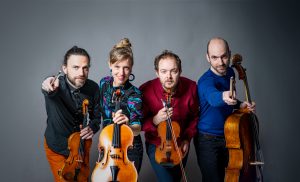 The concert is a production of Music Meeting Festival in Nijmegen (the Netherlands) in collaboration with Muziekpublique.
PLEASE NOTE that, for this concert, we will ask you to present a Covid Safe Ticket as well as your entry ticket for the concert. Info: www.muziekpublique.be/coronavirus